Despite the grand subject and lofty conceptual framework, Kyoungtae Kim's Cathedral de Lausanne 1505–2022 is a rather modest affair in both its design and material construction. The brief text by Kyungyong Lim on the rear cover is short, to the point and written in language that a layperson can understand. The sum of these choices is an approachable and engaging book that encourages the reader to reconsider his or her reading of iconic landmark buildings.
The simple and rough hewn book uses the Cathedral of Lausanne, under constant renovation, as a metaphor for the way that urban spaces are constantly shifting as we remake them building by building, stone by stone, piece by piece. Kyungtae Kim has photographed sections of the cathedral where there is evidence of past or ongoing work on building. The book begins with the darkly printed cover image–a section of decaying stone that gives way, via the card stock cover's gatefold, to a light colored section of concrete fill where the stone is being repaired.
The interior pages are an alternating mix of uncoated heavyweight stock and lightweight coated stock. The heavyweight pages generally contain sections of wall where either a stone is marked with the date of its replacement or sections of stone where repair work is being done. These photographs are all relatively tight close ups and printed full page. The lightweight coated pages contain longer views of either work sites or larger sections where renovations have been completed and are printed roughly quarter page. The book closes with two scenic shots of the cathedral from either end–these are printed back to back on the lightweight stock and the images ghost into one another through the paper.
The photographs are elegant black and white. While they show their maker's technical prowess and awareness of formal modernist concerns they are always driven by the conceptual thrust of the book. Beauty is secondary to meaning.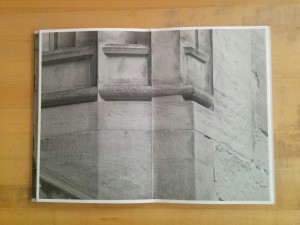 As I wrote about Kim's On the Rocks, Cathedral de Lausanne "isn't grand or ostentatious but it is wonderful nonetheless." It engages the reader to open his or her eyes to the way in which buildings that are culturally and geographically central can be read metaphorical as embodying the process by which the cities that surround them are remaking themselves moment to moment year after year.
Cathedral de Lausanne 1505–2022
Kyoungtae Kim
Essay: Kyungyong Lim
Publisher: mediabus
Editing & Graphic Design: Haeok Shin & Donghyeok Shin
Translation: Yunim Kim
2014