Other peoples' photographs are strange. This couple embracing on the bed: why does he still wear his shoes while she is barefoot? How tame must a reindeer be to accept food from a human's outstretched hand? Who's bicycle is that on top of those two humps of hay on the road? Why is it humorous when an old lady looks through a howitzer of a telescope but oddly unsettling when a man in dark sunglasses looks over a ship's rail with a pair of binoculars? Who are all of these people? And who took these photographs?
What is going on here?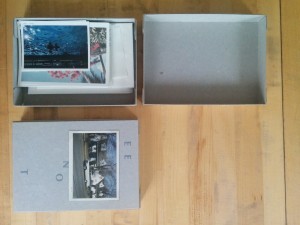 Photographs are rich in physical facts: what someone wore, where someone stood, who they stood beside, what they were doing. Snapshots serve to jog our memories of why the physical world was in this state and how we felt about the experience of being in that place at that time. Unmoor snapshots from the personal memories that give them specific meaning and they become mysteries open to interpretation and invention.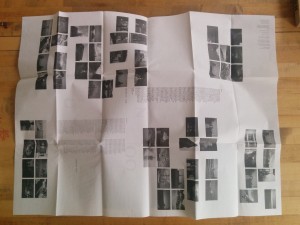 This is a conceptual performance of sorts. Back poses a question and allows his chosen editors and then we, the readers, to work out the answer to it. Back collected over ten thousand vintage personal snapshots from across the US and selected 2,700 to print. These prints were then presented to eight people (one being Back himself) who were asked to select a set of eight images. These people were invited to add text to photographs if they wished. Memento One and Two are each a cardboard box containing half of the selected photographs. The "prints" are snapshot sized offset reproductions, but their varying paper base colors and surface textures mimics the feeling of flipping through a stack of old photographs. Some photographs are annotated with dates or captions in English or Korean while others are unadorned with text. Several images repeat–often with different text on them. One image of two men skeet shooting towards the ocean appears three times. As readers, we are free to rearrange and mix and match our own sets of images.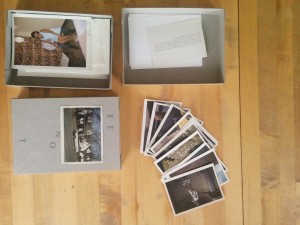 This design choice, of loose unbound prints, mirrors the premise. What do these photographs mean? To whoever took them? To ourselves? In some absolute way? Loose prints place the onus on the reader who becomes an active participant in the performance: a kind of detective. The reader must interrogate the stack of prints seeking clues in small fragments of meaning. Who knows if she will find the true meaning through this process of close looking, but she must come to her own conclusions as to what is going on here.
Memento One & Two
Seung Woo Back
Essay by Hyeyoung Shin
Designed by Yeoun Joo Park
Courtesy of Gana Art
Published by IANNBOOKS
(no year of publication listed)
Selection One: edition of 400
Selection Two: edition of 400