Writing about Sogyumo Acacia Band on SeoulBeats, Ambika describes Song Eun Ji's vocals as "breathy but clear," and concludes that "their songs are great for sitting back and enjoying the interplay of sounds." These descriptions could be applied equally well to Pyokisik's first book of photographs, Shattered–and the comparison is apt as Song writes the introductory essay for the book and the musical duo appears in several of the photographs.
Photography is a record of light on surface–but not simply the light reflected off surfaces before the camera. At its core, photography is the record of light passing through a lens's optical surfaces and falling on the surface of the recording medium. (Ignore for the moment lensless and experimental photography.) Light is distorted at each link in the imaging chain. Pyokisik's photographs show the world through surfaces that distort it or reflected in imperfect mirrors. The optical and chemical systems through which they are recorded cause their own distortions. There is a loose and casual snapshot quality to them. This is a personal narrative being subjectively delivered.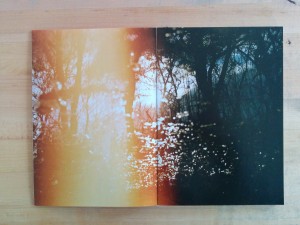 The photographs in Shattered have a deep atmospheric quality that plays on these distortions. The opening image is of a bush with the sky behind. It is distorted here and there by water droplets on a surface through which the photographer pointed his camera. A softness pervades the image. (This image appears on the cover as well.) The atmospheric show continues: Light through a wooded scene; flare turns the left hand side of the image to orange flame. A couple sits on a rock outcropping looking across a bay towards a city lit up in the twilight; a long exposure has blurred the scene and the point light sources bleed into the evening haze enveloping them. A woman's hand holds a half-smoked cigarette; the middle of the frame is lost to lens flare while the top of the frame is out of focus foliage.
Song's essay is nearly as abstract as the photographs to which it provides context. It can be summed up thusly:
…I have gained clarity in this such as: what am I able to do and what I am not able to do, or between what I think I know and what I do not know, or what I am interested in and what I am not interested in and lastly between what I like and what I do not like. Perhaps, I have come to know how to best reduce the energy of anxiety in my mind.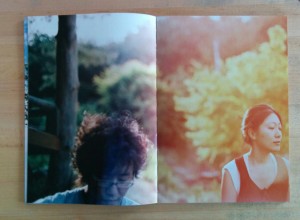 Clarity is not something that is in ample supply in Shattered. Song closes her essay with this line: "It will all be alright because nothing is stranger than the fact that something is missing in the world." If we are to take Pyokisik's photographs as the world, then there is much missing in or elided from them. They present a beautiful view of the world, however much it might be distorted. I am left, however, with questions: Given Sogyumo Acacia Band's appearance in a handful of the book's photographs, I wonder if Shattered is about them or if they are merely part of Pyokisik's social circle? Is there an underlying psychological meaning? Is the anxiety and the hint of depression that Song writes about what ties these photographs together? Are they about being unmoored from the world, a pane of distortion separating the world and the self?
In the end, I am left with beautiful breathy images that toy with the interplay of light on and through surfaces. Many of these images would find a happy home on someone's wall. Myself, I find an image of smoke in front of a window set in a concrete wall and reflecting a blue sky to be endlessly fascinating. The world is shown as layers of distortion, reflection and hazy elision.
The photographs in Shattered are beautiful, and the book itself is a lovely object beautifully printed on alternating signatures of coated and uncoated paper stocks and a stitched binding without boards. However beautiful, I do not know, quite, what it all means.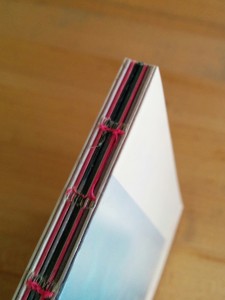 Shattered
Pyokisik
Edit: Jeong Eun Kim
Design: RAAH
Assistants: Hyunjung Son, Sina Kim
Printed in Korea: HeeWoo.com
IANNBOOKS
2011