Two weeks ago I was in Greece hopping from island to island. On the high speed catamarans that ferried us from port to port sea spray would drive against the windows of the cabin in which we were ensconced. We did not feel the spray nor smell the salt in the air. Skipping from beach to beach we were likewise ensconced in a fantasy of idyllic island living. We looked at a great many things, but hardly saw the lives of those around us. We did very little of the concerted looking that leads to seeing.
Oh Jin Tae's Sound of Sea [sic] is the polar opposite.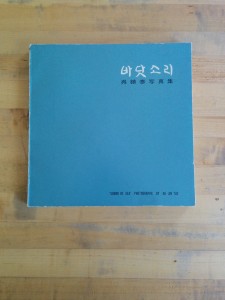 Oh was intimately connected to his subject and spent significant amounts of time engaging with and photographing all aspects of a local fishing industry. He followed the fisherman out to sea, observed the haenyeo preparing for their dives, recorded the cleaning, drying and salting of the fish, mingled among the children playing along the wharfs and took in the vistas far and near. His lens lingered on every aspect of the lives lived along the sea.
At a time when the social documentary mode was dominant but declining, Oh incorporated grain, blur, and awkward framing in expressively expansive photographs. His sequencing is cinematic–relentlessly pushing forward the overarching narrative while slowing down to allow for smaller tributary plots to feed the larger narrative. Even individual portraits expand across multiple frames. In the brief text with which Oh ends the book, he describes his camera as being in motion and "shifting as a man's eyes move;" he notes that he "made up [his] mind not to focus on the one point [sic]." He sees multiple and interlocking narratives that he photographs with a kind of panoptic vision. There is no single, clean story–the individual particles add up to a larger whole.
Sound of Sea is a frenetic record of its ostensible subject and it's maker's emotional and creative response to that subject as well as a marker of a turning point in an individual career and the global history of photography.
Sound of Sea
Oh Jin Tae
1981
(Publisher, design and printer information is in Chinese characters that I cannot translate.)