Like anyone, I have my predilections. I like highly personal, quirky and modest photobooks. It is not necessary in my opinion that a photobook be a capital "G" Great work of capital "A" work of Art for it to cause a viewer to see the world in a new way or to reconsider her vantage. Sometimes it is a small observation lovingly made and lovingly shared that offers the greatest return.
Several years ago I participated in a workshop run by Jeffrey Ladd and Ken Schles. The two photographers asked each participant to bring a couple of favorite photobooks. My selections were Paul Kooiker's Seminar and Ld by Yasushi Cho. Kooiker and Cho's books are quirky–Cho's particularly so. Seminar is a modest volume of photographs of one woman's shoes shot during a seminar. The photographs are obsessive, almost desperate. What at first seems simply a particular detail catching and holding the photographer's attention slowly builds into a discomfiting misogynistic fetish. The handmade Ld is probably as far as one could push a photobook before it becomes an artists book. The darkly printed photographs of light sources are layered with laser over print. The pages are irregularly shaped and hand sewn into an odd shaped cover. A laser printed acetate sheet forms a kind of dustjacket. I find books like these fascinating because one can see how an idea wends its way through a photographer's mind.
Antic-Ham's B-Cuts has a similarly acute sensibility. It is a small book, only 14 pages, inkjet printed in a limited edition of 169 copies. It is hand sewn and features a cover cut from the book review section of a French newspaper with the title silkscreened atop the text. The photographs within and the design itself connect this book to Franticham's oeuvre.
The photographs in book are the usually discarded frames lost to light leaks, skewed perspectives, random subjects, double exposures and other technical lapses in the rush to load a roll or in processing the film. In these photographs, the visual frames end and blend haphazardly. Frames are cut off abruptly, jam one against the next or sit one atop the other in double exposures. This can be jarring, though as often as not the compositions feel highly intentional.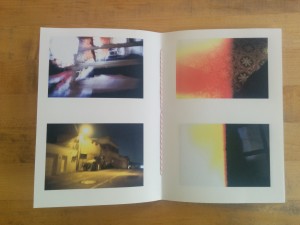 Photography is a multifaceted process, and there is opportunity for creative discovery throughout it.These photographs are primarily a product of Antic-Ham's treating the editing with as much reverence as the shooting. As much as one creates photographs by framing the real world, it is in the editing that one makes judgements about if and how a photograph "works". Sometimes there are diamonds to be found in the rough.
B-Cuts is fun and quirky and offers the viewer an opportunity to reframe their conception of what is a good photograph. In the digital rush attention has been primarily directed toward technical perfection. In this new, cleaner process the opportunistic happenstance represented by the beauty of flawed images has been lost. Antic-Ham reminds us remain open to the beauty found in our castoffs and offcuts throughout the photographic process and throughout life.
B-Cuts
Antic-Ham
Edition of 169
2008